20 chefs to duel on Bocuse d'Or Europe in Budapest
The 5 hours and 35 minutes long culinary encounter will be held on 10 and 11 May at Sirha Budapest. Names of the 20 chefs participating on Bocuse d'Or Europe were announced, Hungary will be represented by Tamás Széll!

Bocuse d'Or chef contest is one of the most renovned gastronomy contests of the world. On the World Final the best representatives of the profession showcase their knowledge, and in the end receive their prizes during a spectacular show
–
almost like an Oscar gala! The year of 2016 will be The Year of Gastro Adventures presented by Hungarian Tourism Ltd., and the month of the contest will be the Month of High Gastronomy within the thematic year.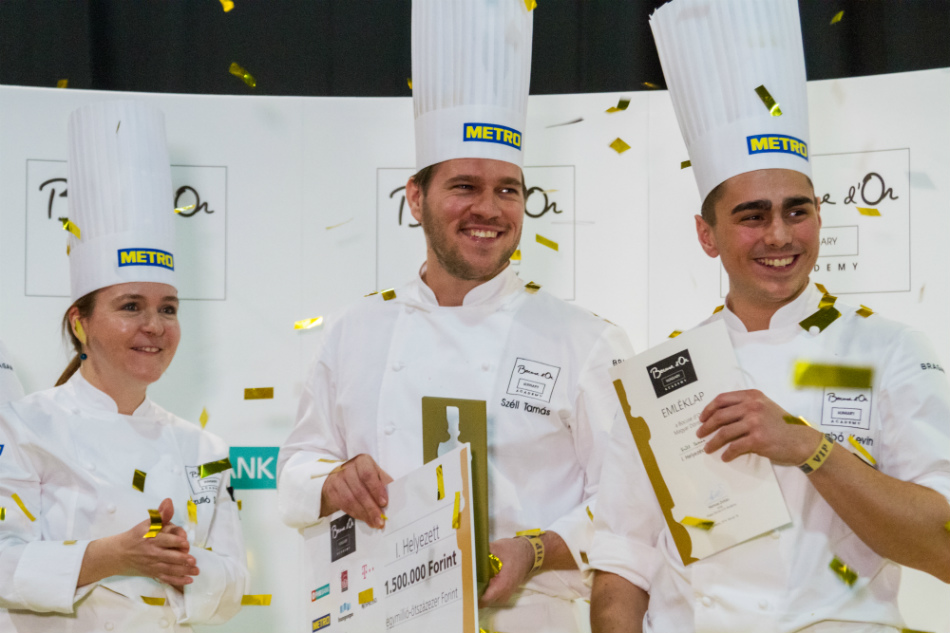 Representatives of 20 countries will participate in the final, and the top 11 of them will take part in the World Final held within 2017 Lyon Sirha.
Bocuse d'Or Europe
is one of the most viewed gastronomy event. Contestants have 5 hours and 35 minutes to present their original recpies which prior to the contest they have been practising and improving for months. Recipes should reflect not only the creativity and personality of the contestant, but also the traditions of the country he or she represents. These recipes contain every year compulsory ingredients: this year a meat dish made of venison and a fish dish made of sturgeon and sturgeon caviar must be included.
Austria - Kevin MICHELI, Einstein St.GallenHotel Congress Spa
Germany - Marvin BÖHM, Restaurant Aqua***, Wolfsburg
Belgium - Peter AESAERT, Belgocatering
Bulgaria - Antonio IVANOV, Restaurant Pure
Croatia - Tomislav KARAMARKO, FMTG group Borik d.d., Falkensteiner
Denmark - Morten FALK, Kadeau*
Spain - Juan Manuel SALGADO, Restaurant La Plassohla
Estonia - Dmitri ROOZ, Restaurant Farm
Finland - Eero VOTTONEN, Restaurant Olo*
France - Laurent LEMAL, Domaine Riberach* – Restaurant La Coopérative
Hungary - Tamas SZELL, Onyx*
Iceland - Viktor Örn ANDRÉSSON, Grillid / Radisson sas
Italy - Marco ACQUAROLI, Four Seasons Hotel des Bergues
Norway - Christopher William DAVIDSEN, SØSTRENE KARLSEN
Netherlands - Jan SMINK, Librije***
United Kingdom - Anthony WRIGHT, University College Birmingham
Russsia - Arthur OVCHINNIKOV, Restaurant Enzo
Sweden - Alexander SJÖGREN, Freelance
Switzerland - Filipe FONSECA PINHEIRO, Restaurant Hôtel de Ville Crissier
Turkey - Mutlu SEVKET YILMAZ, Seasons Restaurant
Hungary will be represented by Tamás Széll, chef of Michelin-star Onyx restaurant! He is the winner of the Hungarian final held on 18 February - no surprise, as he has already participated in Bocuse d'Or World Final in 2013, ranking straightway at the 10. place. Second is Ádám Pohner (Olimpia Restaurant) and third István Volenter (Sodexo).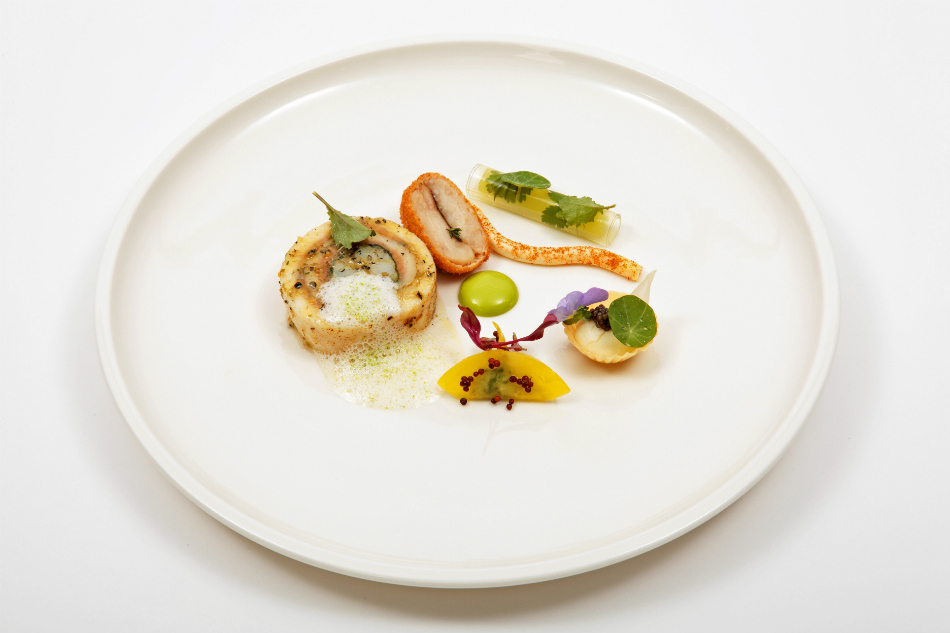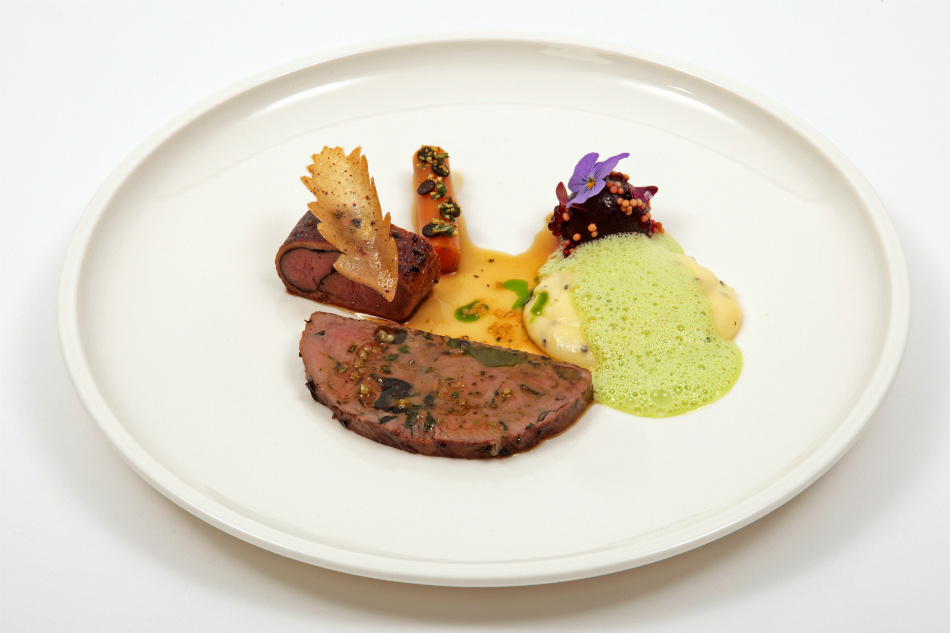 Plates created by Tamás Széll: Sturgeon with shrimp and mussel velouté, and Roasted venison leg and tenderloin
President of the contest this year is Zoltán Hamvas, Gundel Károly Award winner Hungarian chef, co-owner of Michelin-star Onyx Restaurant. According to Mr. Hamvas, the contest is also a great possibility for Hungary to present itself as a nation fond of gastronomy. "We like to believe that a gastro revolution took place 10 years ago in Hungary. Chefs, restaurant owners, winemakers and confectioners have joined their forces to help the birth of a new, more intensive and more colourful cousine" – said Mr. Hamvas.
Zoltán Hamvas, President of Hungarian Bocuse d'Or Academy
50 countries participate in the global contest of Bocuse d'Or – the latter aiming to renew the chef profession, introduce young talents and motivate innovation by the best representatives of the profession. The contest is a unique possibility for the participating countries to set their feet on the world map of gastronomy. Hungarian Bocuse d'Or Academy has been helping the preparation of Hungarian participants since 2009, and thus contributing to the fact that Hungarian tastes find their place in the modern world.
For the representatives of food, bakery and confectioner industry
Sirha Expo offers
a possibility to present themselves. Location this year, Hungexpo hosts more than 300 exhibitors and 20 000 professional visitors every year. Sirha expo is also an occasion for conferences, contests and creative forums; this year for example Dessert Contest and Barista Championship will also be held during the event.